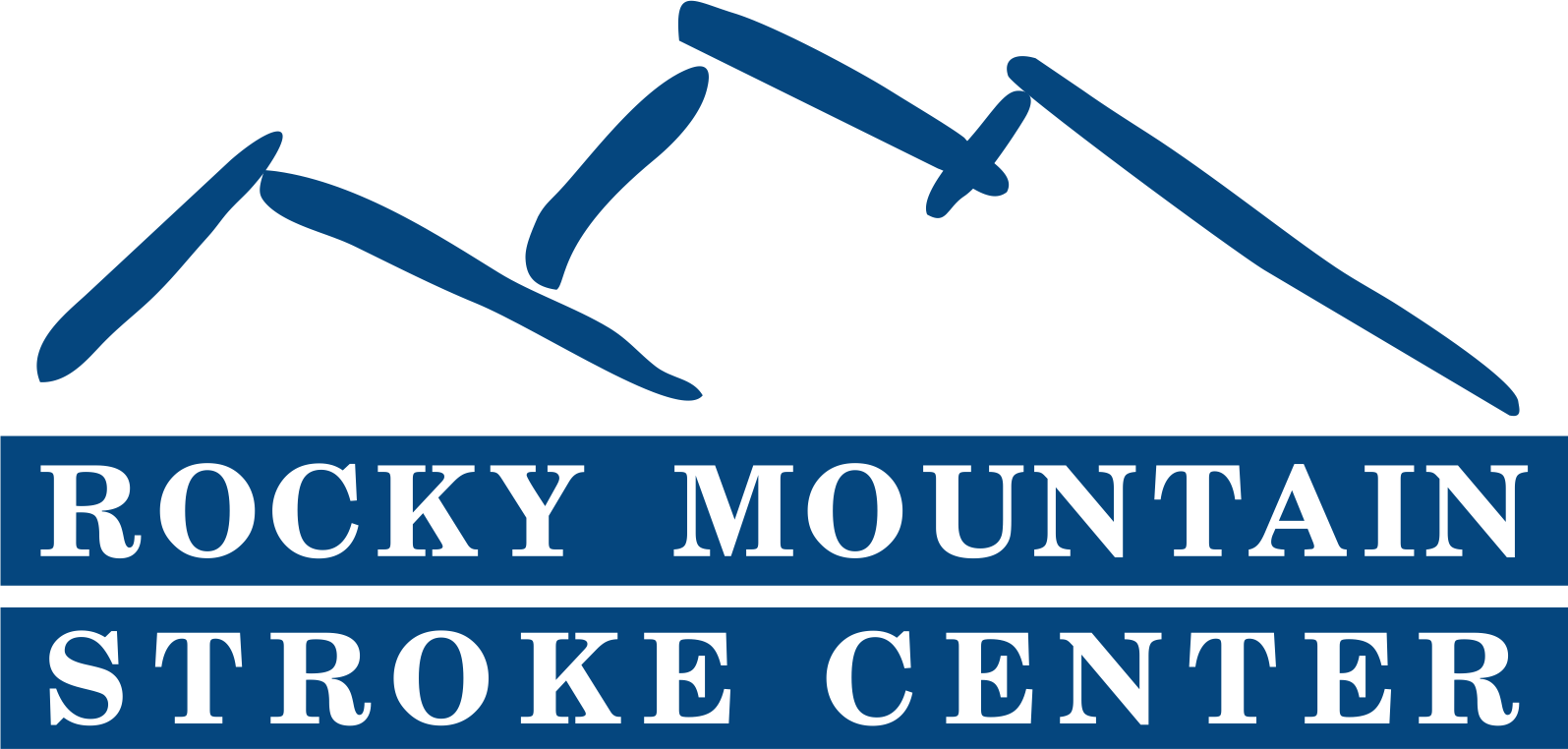 "Where recovery continues..."
Rocky Mountain Stroke Center
Information. Rehabilitation. Support.
"In Their Words"...
Survivors of Stroke Tell Their Stories
"I was 49 years old, camping in a very remote part of the Rockies by myself with my two Chihuahuas. I had just pulled over to park the car on a 2-lane road when my brain aneurism and stroke hit. I don't remember any of it but when I think back to it happening, all that I think of is my poor dogs. They must have been so scared, not knowing what was happening to their Mama. There is no cell phone service in this part of the mountains, not that I was coherent at all. However, there was a woman behind me in her camper and when she saw that there was something very wrong with me; she walked all the way to the Ranger Station to get help. Somewhere in here, I lost consciousness. The woman and the rangers came back and used their satellite phone to call the Medevac unit. When the Medevac got there, upon seeing how much I was hemorrhaging and all the swelling, they opted to relieve the pressure from my brain."
"Right there, they cut a large hole
in my skull,

right on the side
of Long Draw road."
The other program my ex knew I would benefit from is "Art Therapy" which I attend every Monday and have ever since I got my plastic "skull" and was able to sit in my wheelchair for the duration of class. You see, when I was 36 years old, I decided to go to Art School and moved to Chicago. There I graduated in 2000 from The Art Institute with a BFA in painting and drawing. I love going to art and never miss a class if I can help it. It's a very supportive environment where we all encourage each other and give help when we are stuck. My brain injury, along with my overall condition causes me to be severely depressed. Going to Art Therapy and talking to others in my same condition while creating art allows me to feel like myself – a real rarity these days. I often enter the building in a sad state and always leave uplifted and hopeful, a true rarity for me. Every Wednesday afternoon, I also go to PT (Physical Therapy), which I have no doubt is why I am able to do what I can now. When I first started PT with Michelle (Physical Therapist), I was unable to stand and could barely sit up in my wheelchair. Now, a year or so later, I can sit up and am able to do chair sit-ups! I am able to walk with the use of an assistive device and Michelle's help for balance. I will never forget the first time I walked as I didn't believe I ever would again. After taking a few steps, I just broke down bawling. Such difficult, emotional work. Everyone around me, a few other survivors and Stroke Center staff, all started applauding, causing me to cry harder – a good cathartic cry this time.
There were no neurosurgeons available at Loveland hospital, so when I arrived there, my ex-husband talked them into flying me down to University Hospital in Denver where two of the best neurosurgeons in the country happened to be on duty that afternoon. My first brain surgery took place a few hours later, July 20th, 2012. Part of my brain had died during my stroke, so it was removed during surgery. To this day, I still only have part of my brain.
At this point, as an animal lover, I'm sure that other animal lovers out there are wondering what happened to my dogs during the event. They were taken to a local shelter in Loveland. Shortly after that when discovering my work phone number in my cell phone, staff were able to track down my friend Angela. Angela drove from Denver all the way to Loveland, rescued my dogs and brought them back to the home I still shared with my ex. How relieved they must have felt to see the friendly face of their good friend Angela when she arrived!
At that point, my condition was critical and the doctors told my ex to "make plans" as the likelihood of my survival was almost zero. If I was to survive, by some miracle, I was most likely going to be a vegetable. If I did survive, I most certainly wouldn't be cognitively functional. They told my friends and my ex to say their goodbyes. It was a long four months that I remained in a coma, being sustained by a feeding tube and other machines. The prognosis never improved. My life was sustained but I still wasn't expected to wake up and if I did, I wouldn't be myself. All the professionals said that "pre-stroke Kristie" was "gone".
I'm a big animal person, having worked most of my adult life in an animal shelter or veterinary hospital as either a receptionist or veterinary assistant. At the time of my stroke, I had 2 cats and 3 Chihuahuas. One of my cats, "Monkey" was terrible and very aggressive during nail trims. The sweetest girl in life but try to trim her nails and watch out – a tigress emerges! During month four of my coma, my friends, Angela and Becky were at my bedside discussing how bad Monkey was. To everyone's surprise, I opened my eyes and said "Monkey hates it!" I love that these were my first words coming out of my coma. Monkey DOES hate it! I mean, REALLY! I don't recall hearing their conversation or saying this, but it proves that people can be aware during their comas. I guess I was and it doesn't surprise me that a discussion about one of my beloved pets encouraged me to come out of it. It wasn't like I said "Monkey HATES it" and then was awake. It took weeks for me to be fully awake. I remember nothing of this time period. I did prove all the doctors wrong though as my cognition was excellent, much better than anyone believed was possible!
I don't know when I started speaking, but when I did, it was clear to the doctors that my massive aneurism and stroke didn't get the best of me. No one could believe it. As the next few weeks passed and I continued to awaken, it was understood that the aphasia I had was in understanding what was being said to me. I am told I always responded appropriately. As the days passed, I continually improved. I did still have a large hole in my skull and needed to wear a helmet every time I sat up, to protect my brain. Soon after that, I needed another surgery to close up my skull. Since my own skull had become infected, I now have a plastic "skull" protecting my brain.
The other challenge I faced upon awakening was being paralyzed on my left side, both my arm and my leg, unable to sit up or walk.During this time of re-awakening, my ex-husband, a librarian by trade, went online to find resources for me and my healing. He discovered the Rocky Mountain Stroke Center (then the Rocky Mountain Stroke Association). He was impressed and pleased to see they focused on younger stroke survivors like myself and that they offered many programs I would benefit from. They even provided a young stroke support group, which I have been intending to visit for a year or more but haven't made it there yet….someday!
In a nutshell, this is why I love the Stroke Center. SO much empathy and support.
I feel like everyone is in my corner and on my side. Everyone wants me to succeed and knows how difficult each improvement is, how literally, each step forward is.
Before my stroke, I worked for about 10 years as a receptionist at Tender Touch Veterinary Hospital. Many of my co-workers (and even a few clients) have stood by me through this journey and have become family. I was a fixture at Tender Touch, having been there for so many years, that many clients asked where I was when I stopped coming to work. So many clients were asking about me that my boss, Apryl made it clear to me that she wanted me to come back to work when I was able. Right around my 2 year stroke anniversary , I was ready for extremely part time work. My first day back, I tried to do some of my old duties , but my stroke took a lot of my vision away. It was obvious that I was unable to see well enough to be able to use the computer, which being a paperless practice, is most of the job. When I told Apryl, she said she was anticipating this. She witnessed the various stages of my recovery, from just after my stroke, to when I wasn't expected to survive, to years later when it was clear I would defy the odds. She let me know that she still wanted me back and she would create a position just for me and my abilities. Amazing.
So now, I enjoy a few different opportunities for work at Tender Touch. Being such an animal lover, one of my jobs there is to hold and comfort fearful cats and dogs as they wake up from anesthesia or as they await their appointments, having been dropped off for the day due to their owner's schedules. We also rescue stray, homeless cats and kittens and adopt them into loving homes. One of my other jobs is to socialize these fearful cats and kittens by handling them and helping them to gain confidence with people, thus making them more adoptable. I had also been keeping Apryl apprised of my Stroke Center activities, so she knew I was still creating art (despite my visual impairment), so she offered to have me draw our sympathy cards for owners who's pets have passed away. We happen to have photos of all our patients in the computer system and so I've been able to draw pet portraits for work too. The clients are very touched by this gesture and it's very helpful for my sense of self-worth to be able to continue doing something that has always been a huge part of my identity. I continue to improve every day and can't wait to share the next chapter in my story with you in the future!"
Tim and Cheryl W. have been walking their life-journey together as a married couple with courage and renewed purpose since 2012 when Tim had an aneurysm dissect in one of the major arteries of his neck and surgically closing it off forced a stroke. He spent five months in the hospital between the ICU and Rehabilitation. According to the American Stroke Association (ASA), nearly 700,000 Americans suffer from new or recurrent strokes each year. Tim is a reminder that stroke does not just happen to older people –
Tim W.
Tim was 47 years young when he had his stroke.
Tim had to relearn to walk, talk and eat – not once but twice after he had a major setback halfway through his initial recovery. Since he was released home from the hospital, Tim has been continuing to work towards regaining what he lost. Over the last year he has progressed from moving with the assistance of a walker to now walking with only a cane.
He continues to do therapy four days a week and has gotten strong enough that he actually tried playing golf again last summer. And importantly, Tim has also started volunteering at one of the local hospitals with other stroke and brain injury patients in a peer-to-peer support program. He visits patients that are recovering in the stroke and neuro units. He answers questions and offers support to the patients and their families. More than anything – Tim is providing the hope of recovery.
Cheryl, as Tim's wife and primary caregiver recently shared, "It's been a life journey that we never thought we'd be traveling together…nobody ever does. But I promised Tim when he came home that I would ensure that he wouldn't live his life in the big green chair in our living room -- that he would live a fulfilled life and find his joy again. I've kept my promise with the help of the Rocky Mountain Stroke Center (RMSC)." Tim added, "I've been very fortunate to have Cheryl as my caregiver and most importantly as my loving wife. Without her persistence in trying to find resources to help me, we would never have discovered the Stroke Center nor would I be recovering as much as I am from this life-changing event."
"Esther, her staff, interns and volunteers do amazing work with stroke survivors to help us recover our lives on a shoestring budget. We are very thankful for the support they continue to provide me in my recovery."
Tim started attending activities at the Stroke Center while he was still getting outpatient physical therapy at one of the local hospitals and music therapy through Rehabilitative Rhythms. After graduating from outpatient PT/OT, Tim and Cheryl realized that Tim needed to continue physical therapy in order for him to get stronger. So…Tim started attending pool therapy offered through the Stroke Center once a week. At pool therapy Tim met other stroke survivors that shared information with him about the resources and activities available through the Stroke Center like music therapy and "Just Guys" group where he's made some really good friends. Tim shared, "The relationships I've developed with these guys have really helped me learn how to manage life after stroke. Not only do we talk about how to continue recovering after stroke, but we also participate in fun outside activities. It's been very healing for me to share my experience with other stroke survivors that truly understand."
Tim also participates in Physical Therapy and other fun classes through the Stroke Center like "Golf 4 the Disabled", gardening and a "mindfulness" class which helped Tim learn to live in the moment, not looking back or too far forward but fully enjoying the present. In closing, Tim shared,
"The Stroke Center has helped me in so many ways -- emotionally, physically and has helped bring fun back into my life. The activities I've participated in through the Rocky Mountain Stroke Center have been a very important part of my recovery."
Check back for more survivor stories coming soon!